The Ramayana - A timeless tale of supreme benevolence
Our cultural event celebrates Sahaja Yoga's origins in Indian culture and pays tribute to its founder, Shri Mataji, on her 100th Birthday. We present an enchanting children's play based on the ancient epic, Ramayana, filled with dance and music. The little children from Sahaja Yoga Netherlands, humbly invite you to a theatrical on the most popular Indian epic story of "Ramayana". Ramayana is a story about the devotion of Prince Rama, his virtues, and his teachings. It emphasizes the importance of following one's duty, staying true to one's principles, and living a life of service to others. Through this performance, we hope to emphasize the importance of fulfilling one's duties, upholding principles, and embracing a life dedicated to serving others. Let us come together to enjoy and learn from the invaluable life lessons woven into this captivating story.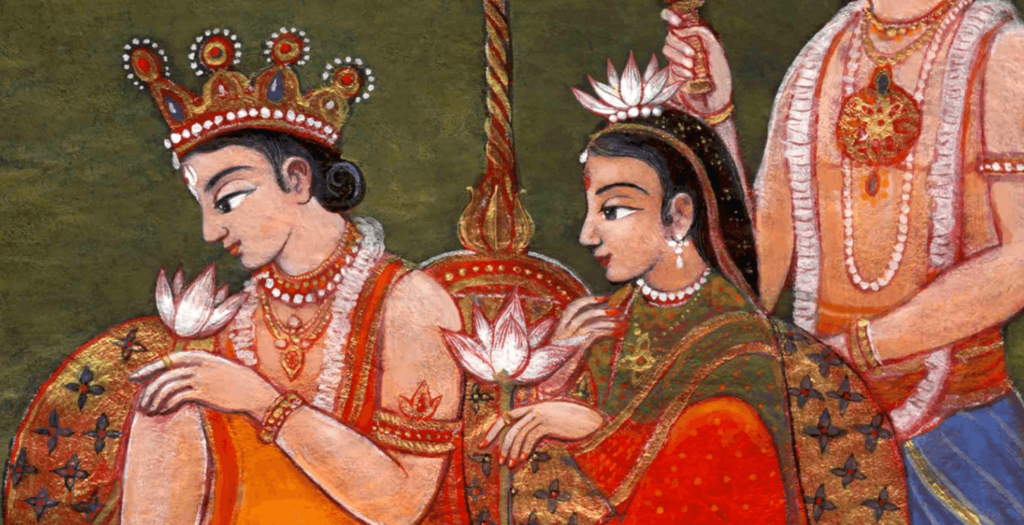 What Ramayana offers to the Society?
The Ramayana is a very popular epic in India and other parts of the world. It is a story of Rama, a prince of Ayodhya, who goes through many trials and adventures to rescue his wife Sita from the evil king Ravana. The Ramayana has many themes and lessons that are relevant to the society that helps to understand and perform ones duty with righteousness and benevolence .The Ramayana also showcases the ideal qualities of a hero, a king, a wife, a brother, and a friend. The Ramayana has influenced many aspects of society, such as art, literature, music, dance, drama, and politics. The Ramayana has also spread to many other countries and regions, such as Southeast Asia, where it has been adapted and modified to suit the local cultures and histories. The Ramayana is a source of inspiration and entertainment for millions of people across the world.
Why Ramayana for the Children and by the Children?
Ramayana play is based on classic story and is very beneficial for children because it:
Inspires them to follow the examples of the noble and virtuous characters, such as Rama, Sita, Lakshmana, Hanuman and others. Ramayana shows how these characters faced various challenges and obstacles with courage, loyalty, honesty and devotion. It also shows how they respected their elders, fulfilled their duties and upheld their values.

Helps them understand the difference between right and wrong and the consequences of their actions. Ramayana illustrates the contrast between the good and evil forces, represented by Rama and Ravana, respectively. It shows how Ravana's greed, lust, pride and arrogance led to his downfall, while Rama's righteousness, compassion, humility, and sacrifice led to his victory.
Stimulates their imagination and creativity with its vivid descriptions of events, scenes and characters. Ramayana is full of adventure, action, magic and mystery. It has many fascinating stories within the main story that captivate the readers' attention and interest. It also has many poetic verses that enhance the beauty and emotion of the narrative.
Ramayana is a timeless epic that can enrich the minds and hearts of children with its wisdom and wonder. 
Sahaja Yoga meditation helps to transform oneself from within. This transformation is at physical, mental and emotional level and will manifest within the qualities of love, respect, righteousness and benevolence. All these qualities are of Prince Rama who's life story is depicted in the tale Ramayana. Through this unique meditation, practitioners experience profound silence and joy as the kundalini energy rises from within. It leads to self-realization, liberating individuals from the burdens of worries, fears, and constant thoughts, making it especially relevant in today's high-stress world. This practice emphasizes the importance of expression of joy through art, like the Ramayana play we present.
We are just like you – students, teachers, employees, artists, dreamers and more – whose lives have been transformed through the practice of Sahaja Yoga Meditation. This unique and effortless meditation technique has awakened an inner source of joy within us, bringing relaxation, peace, and morality into our busy lives. Despite the modern world's demands, we find fulfillment and togetherness as a dynamic group, committed to sharing love and joy with society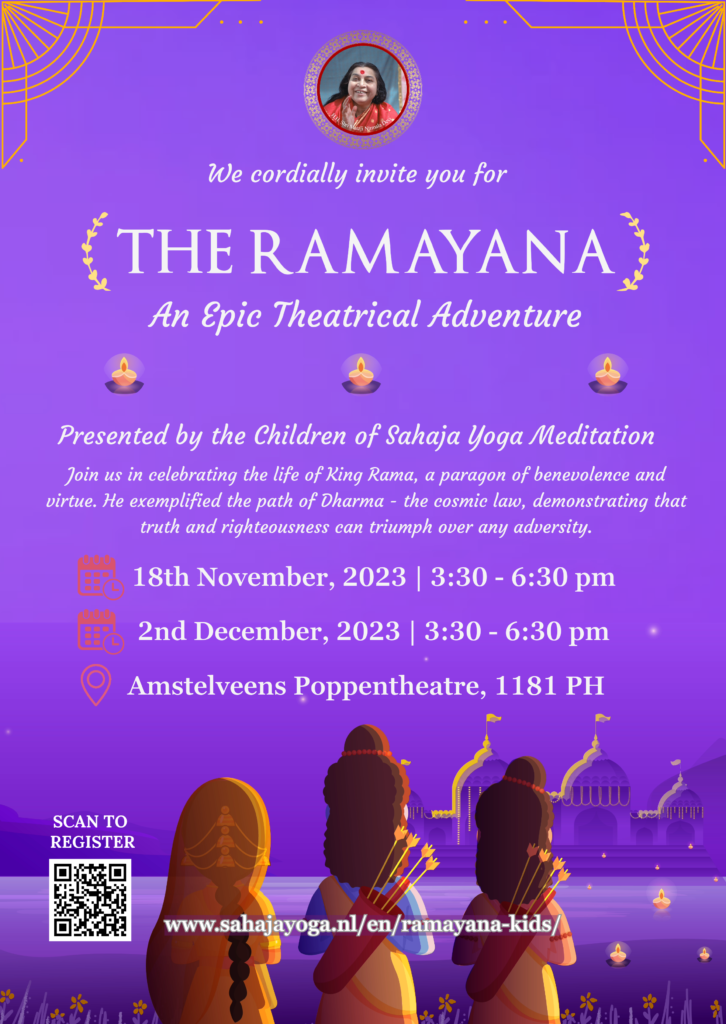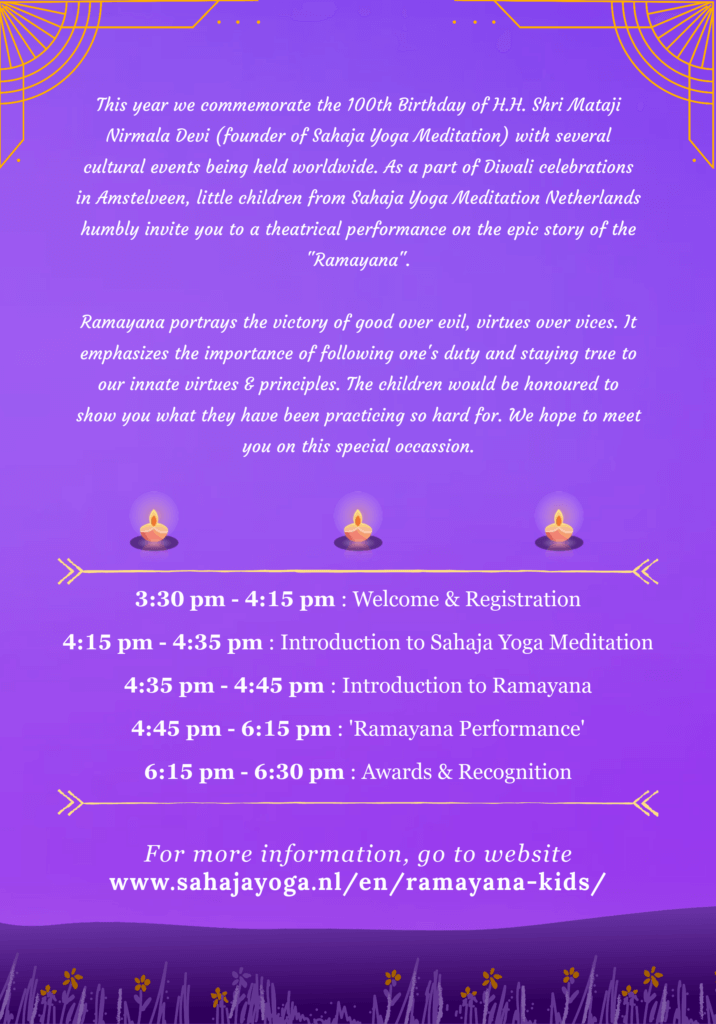 Sahaja Yoga has its origin in Indian culture and also our founder is from India. With thanks to Shri Mataji -who developed this meditation method in a spontaneous way and always emphasized the importance of cultural expressions- Sahaja Yoga Meditation offers an enchanting children's play, filled with dance and music, based on the ancient epic Ramayana.
This year we commemorate Shri Mataji's 100th Birthday with several cultural events worldwide. In Amstelveen we would like to present the Ramayana during the Diwali celebrations.
Where & when can you enjoy this play?
18th November, 2023 from 15:30 till 18:30
Amstelveen Poppentheater, Wolfert van Borsselenweg 85a, 1181 PH Amstelveen
Free of charge with mandatory registration
All age groups are welcome, however we recommend children aged 6+. 
For any questions or cancellations please send us email at ramayananl.sy@gmail.com 
What can we learn from the key figures in the ramayana?
In the Ramayana there are several key figures next to Shri Rama himself who have a significant role in this ancient and meaningful epic tale. One of them is Shri Hanuman, the monkey God, who has boundless energy and is a servant messenger to Shri Rama. He is the one who flies to Lanka to look for Shri Rama's wife Sita, who is abducted by the evil Lord Ravana. Shri Hanumana is the son of the wind-God Vayu: heroic, gifted with physical strength and super powers. He is able to fly through the air and to adjust his size. In Sahaja Yoga the energy of Shri Hanumana is very much embedded in the right channel of our subtle system. He guides us in our planning and mental activities. This is just one of the many things you will learn in the practice of Sahaja Yoga, although flying and adjusting size won't be one of them.  These Gods (the keyfigures) correspond with certain energy centers in the subtle body.  All this knowledge will be handed to you in our Sahaja Yoga courses.
In every tale throughout history and culture or in novels, there are certain elements that make up a good story. The theory of archetypes posed by Carl Jung, psychologist of the human psyche, teaches that characters are embodiments of certain human traits and qualities. In the Ramayana Shri Sita, the wife of Shri Rama holds the role of a pure maiden. She is sweet, beautiful and innocent and needs the protection of the hero. In this case the hero would be Shri Rama. Shri Rama himself stands for good conduct, keeper of boundaries and responsibility as a good King would show to his people. Together  they portray a successful marriage: dedicated to one another and performing
their duties as husband and wife and King and Queen without questioning. They also accept their devastating fate being sent away for 14 years from their kingdom Ayodhya in complete surrender. There's much to learn from this dedication and in Sahaja Yoga we learn how to transfer this into our daily lives.